Jaguar Land Rover is investing in a closed loop strategy for its vehicles to maximise recycling of materials into its next generation models.
The REALITY project supports the circular economy by recovering aluminium from existing Jaguar and Land Rover vehicles and is being tested on early, pre-production prototypes of the Jaguar I-Pace electric vehicle.
While batteries from electric vehicles enter a different second-life process being developed by the manufacturer, other materials are sorted using high-tech sensors, then separated aluminium is melted, reformed and sent back into the manufacturing process.
The pioneering project will expand the company's current closed loop aluminium programme, which has reprocessed 300,000 tonnes of the metal since 2013.
In 2014, the Jaguar XE was the first vehicle in the world to be built with aluminium that was made of up to 75% recycled material.
Jaguar Land Rover executives believe that as manufacturers develop mobility services focused on an Autonomous, Connected, Electric and Shared (ACES) business model, they will need strategies to manage the retirement of large multi-use fleets.
As manufacturers become mobility service providers, they will manage vehicles from production to end-of-life, including closed loop recycling to maximise efficiencies.
Jaguar Land Rover currently uses 180,000 tonnes of aluminium per year, a small percentage of the 80 million tonnes produced globally. It is already one of the world's most widely recycled materials, with 75% of all aluminium ever produced still in circulation.
Gaëlle Guillaume, lead project manager, REALITY at Jaguar Land Rover, said: "More than a million cars are crushed every year in the UK and this pioneering project affords us a real opportunity to give some of them a second life.
"Aluminium is a valuable material and a key component in our manufacturing process and as such we're committed to ensuring our use of it is as responsible as possible."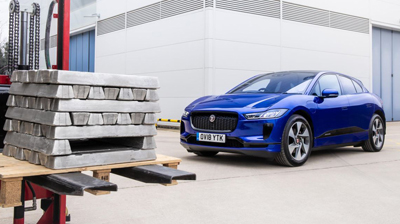 The recycled aluminium is being tested by Brunel University scientists, who are conducting strength tests and grading its purity to ensure it meets the required mechanical standards to be used in body panels on all Jaguar and Land Rover vehicles.
Jaguar Land Rover executives have challenged the business to rethink anything that only delivers value once to the business and customers.
Amid growing pressure on natural resources, they say that extracting the maximum possible value from every process and material is paramount, so the business has to look at second or even third-life opportunities for materials or products.
A circular economy ensures resources are used for as long as possible and the maximum value is extracted from them whilst in use. Materials and products are recovered or regenerated at the end of each service life.
Growing interest in the circular economy
There is an increasing focus on the circular economy in asset finance, where leasing services enable suppliers to monitor and manage resources while in use and through their end of life.
As last year's International Asset Finance Network conference, speakers argued the linear economy is dying, ending the cycle of production, individual consumption and waste that has underpinned business development for centuries.
Instead, the rise of the sharing economy will see much more intensive use of assets by multiple clients, enabled through innovations in technology and software.
This change will see a variety of assets gain a new lease of life as they are repurposed following their initial period of use, finding new clients after they are refurbished and recycled.
Carmen Ene, chief executive of 3 Step IT, a circular economy specialist, said: "It is an enormous opportunity for the leasing industry to portray itself as the enabler of the circular economy, as the ones that make all these things possible on an underlying financing contract."
Earlier this year, BNP Paribas Leasing Solutions and 3 Step IT announced a European strategic allianceto offer technology leasing solutions and lifecycle management.
The partners are combining their expertise to provide organisations with a complete management service for technology equipment.
This will range from initial consultation to funding, in-life tracking, equipment monitoring and end-of-life management, including data destruction, refurbishment and resale of returned equipment, which will support the circular economy throughout Europe.
Equipment will typically include computers, smartphones, printers and similar items and the service will also be available to manufacturers and distributors to meet their customers' needs and expectations.
The alliance will be effective in the 20 European countries where each of the partners operates, under the name BNP Paribas 3 Step IT, and is expected to fund €1 billion of assets by 2025.
The joint venture will launch in France, Italy, Germany, Belgium, the Netherlands and the UK this year, with plans to expand to Poland, Spain, Portugal, Austria and Switzerland in 2020.
In another example, Swedish furniture giant Ikea is piloting a leasing service for kitchens and furniture as part of its focus on championing a circular economy and eliminating waste.
The pilot project in Switzerland is looking at ways for customers to 'buy, care for and pass on products' as part of its aim to become a fully circular business by 2030.
An IKEA spokesperson said: "We have an ambition to inspire and enable people to play an active role in making the circular economy a reality.
"This can only be achieved through collaboration. In addition to working with customers to find appealing and accessible solutions that enable them to live more sustainably, we are also partnering with stakeholders to work together and share experiences."
Comments
comments