ING's Economics Department publishes 'Rethinking finance in a circular economy', an extensive report about the circular economy and the financial implications of circular business models.

Implications on finance
The report 'Rethinking finance in a circular economy' by Gerben Hieminga, senior economist at ING, examines the main principles and drivers underlying a circular economy, the rise of the new circular business models and explores the implications that these will have on finance.
Decouple growth from resource use
In ING's view, the circular economy is the ultimate answer to solving the problem of the depletion and economic scarcity of resources. "The present model of economic growth is running up against the limits of our planet's ability to provide everything we need," says Koos Timmermans, vice chairman of ING Bank. "Companies are increasingly looking at the entire lifecycle of their products, and the resources used in them, in order to decouple growth from resource use. This is where the circular economy comes in, which is about going from 'take, make and waste' to 'reduce, reuse and recycle'."
Accelerate circular economy
"Our objective," Timmermans continues, "is to accelerate the circular economy." ING is going beyond traditional banking and is embracing the current developments. ING is taking steps to apply the circular economy principles and is investigating how it can translate these effectively into viable customer solutions. "These solutions should support customers in their transition process. As a leading European bank, we're taking the first steps to integrate circular economy concepts into our own business, by for example applying these principles on material goods, such as when procuring office interior goods."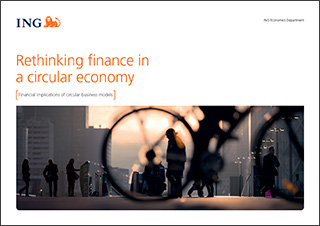 How does ING do that?
By doing several things: for example by committing to grow its sustainable business portfolio; by investing in best practice companies; by applying a more holistic and in-depth analysis of clients' financial flows; by developing intelligence on the subject (ING Economics Department) and by engaging with its customers through round tables, seminars and workshops.
Changing the financial landscape
This study will give readers insights into the opportunities of the circular economy and the business models enabling it. It will also provide a better understanding of how the circular economy changes the financial landscape. ING, as a large financial institution, plays a pivotal role in financing sustainable transitions.
Sustainable economic growth
To ING, the importance of sustainability is unquestioned. It's an integral part of both our commercial and risk strategy. Through a combination of our values, ambitions and our vision of the future we strive to achieve economic growth in a sustainable manner.
The ING report claims financial institutions should not ignore the circular economy but embrace it
The financial industry will need to undergo a seismic shift in culture, away from the collateral value of assets and towards a cash-flow based approach to lending, if it is to support circular economy business models.
That's according to Dutch multinational bank ING, which undertook a comprehensive study of the business opportunities of the circular economy and its potential impact on banking activities.
Source: ing.com
Comments
comments